How to Transfer iCloud Email to Gmail Account Manually on Mac?
Overview: With this blog, your wait has finally come to an end to transfer iCloud email to Gmail account safely. Here, we will mention all the reasons which lead to a user deciding upon this migration. Besides this, a full-fledged professional solution to migrate iCloud to Gmail email client has been provided.
Since it's a Mac account, many users use an iCloud account and are looking to forward emails, contacts, etc. from iCloud to Google Mail, but never tried it because they find it complicated. You might be thinking about signing out of your iCloud account for several reasons, or maybe you're someone who wants to switch from iPhone to Android phone.
There could be n number of possible reasons for iCloud to Gmail migration. As a consequence, we will try to cover as many as possible via this write-up.
Why Do User Prefer Gmail Email Client?
iCloud accounts provide only 5GB of free storage space which is less as compared to the Gmail account.
Troublesome to manage two accounts simultaneously.
Gmail offers excellent spam filtering and search options.
Many users prefer to have a backup of iCloud data in their Gmail account to prevent uncertainties.
Obviously, the list doesn't end here. There are several other reasons as well which lead a user to transfer iCloud email to Gmail account.
So, without any further ado, let us find the methods that are best for this migration. Using them as per the requirement, you can access all the emails in your Gmail account later. Therefore, to understand them in a better way just follow the below section.
Workarounds to Transfer iCloud Email to Gmail
There are two easy ways that one can use to complete the migration process on any Mac supported machine.
We will first go through the manual methods to perform this importation with iCloud emails. Users are advised to go for this solution only if they have enough technical knowledge. Else, they can go for the expert-recommended program.
How to Manually Import iCloud to Gmail Account?
Follow the steps correctly in order to avoid data loss.
Go to your Gmail account and hit the "Gear" icon from the top right corner.
From there, choose "See all settings" as shown in the image below.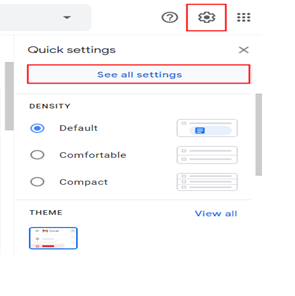 From the next windows opened, press the "Accounts and Import" tab. Afterward, choose the option saying "Import mail and contacts" to transfer iCloud email to Gmail account.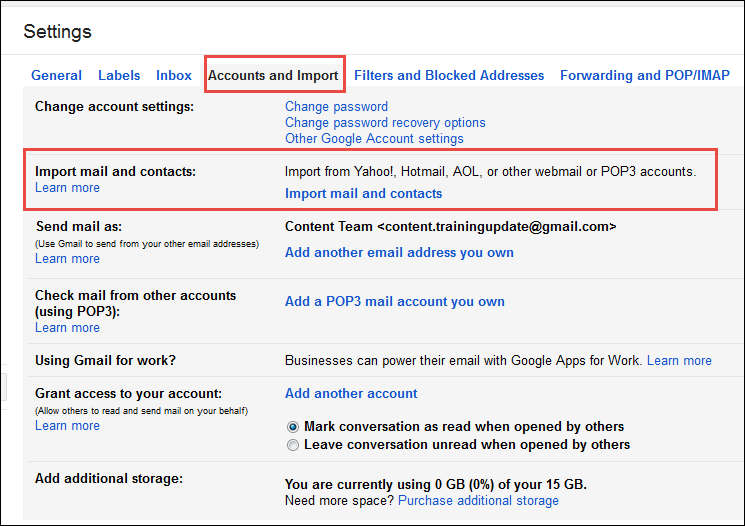 In the new prompt window, provide the iCloud Email ID in the "What account do you want to import from"? section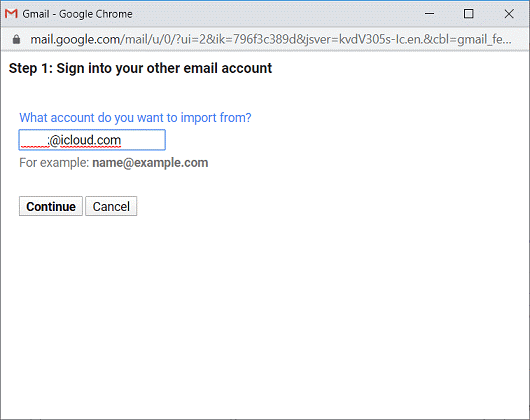 Next, click on the Continue button to proceed to the next step.
Select the Import Mail option from the list provided and hit Start Import.
It seems to be an easy solution with a limited number of steps. Well, it is indeed a straightforward method. But do keep the limitations in mind.
Failings of the Manual Method
It is a free method but your entire data is at stake with this one. The forthcoming section of the blog holds all those in brief.
Cannot filter emails using the above manual method.
It can take up to more days to complete the process to migrate iCloud to Gmail account.
No option for selective email migration from iCloud account. In short, it will only migrate emails from the Inbox folder and will exclude other folders.
Time-consuming and requires technical cooperation.
Want to refrain from the shortcomings of the manual method? Then, pursue the article for the best and secure method.
How to Transfer iCloud Email to Gmail Safely on Mac OS?
iCloud Migration Tool for Mac to Gmail account is one of the best solutions to migrate batch iCloud mailbox data in a trouble-free manner. It is an error-free and handy solution that is designed with the best and latest algorithms.
Furthermore, it allows migrate iCloud email to Gmail along with their attachments. Moreover, it even has a facility to transfer specific emails using Date filter from host account. Also, it is a standalone software that provides features to check or uncheck the required folder to migrate.
Additionally, the graphical user interface and the working steps of the program are simple. So, all Mac users can operate it any latest or earlier versions of Mac machine and perform a safe migration. In case, if there is a need for iCloud to Yahoo migration then this tool is best to consider.
Steps to Migrate iCloud to Gmail Account in Batch Mode
To execute the process, download the software on any version of Mac operating system. Then, follow the step by step guide to transfer iCloud email to Gmail for batch migration-
Launch the tool and select iCloud option as the IMAP source account.
Then, just provide the username and password of iCloud account to further validate it.
In the same way, choose the Gmail option as IMAP destination account, enter the username, password and then validate it.
In the end, provide a date filter to transfer selective emails as per the date range basis
In the end, hit the Start Migration button to begin the immediate batch migration process on Mac.
Note: By using the delta migration filter, you can avail the incremental migration, only if you have performed the migration process at least once.
Read More: Learn the simple method to migrate iCloud to Office 365 account.
FAQs
Q-  Does this software works in Mac OS 12.0 for a smooth migration from iCloud account?
Yes, this software works great in all the latest and earlier version of Mac operating system, including Mac OS 12.0, Mac OS 11.0, Mac OS 10.8 and below versions.
Q- Can I perform only selective migrate email from iCloud to Gmail account with this tool?
Yes, this automated tool facilitates users for a selective email migration using the Date Filter where they can set the date range accordingly.
Q- What if this tool transfer same emails from iCloud account to my Gmail account?
There is no need to worry about the email duplicates because this tool allows you to select the Delta Migration. Through which you can simply transfer only new emails, however this option is applicable from the second time of migration.
The Final Statement
In conclusion, we would like to recommend using the manual method if you are well-versed with all the steps. Otherwise, opting for an automated solution is a wise choice. It will allow you in saving your time and efforts to  transfer iCloud email to Gmail account on Mac desktop. Moreover, using this Mac based professional solution you can easily migrate batch emails with attachments without data formatting.